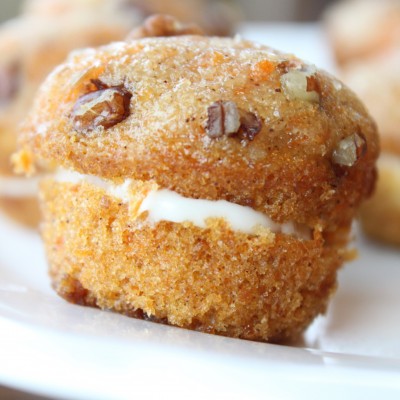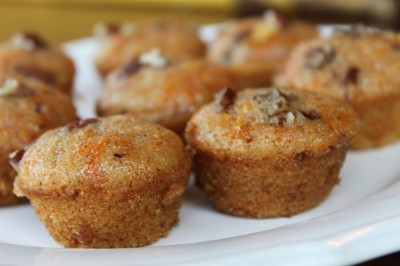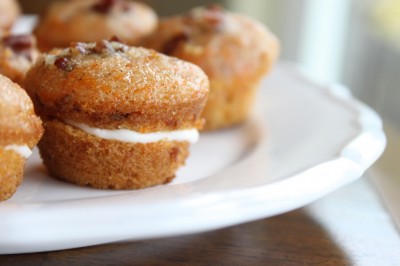 I recently made my pumpkin bread in the form of mini muffins. With the addition of chopped walnuts on top and a layer of cream cheese frosting in the middle, I transformed some of them into little cupcake bites, perfect for a dessert party or an afternoon treat.
Ingredients
1 cup vegetable oil
3 cups sugar
2/3 cups water
2 cups pumpkin purée
4 eggs
3 ½ cups flour
2 tsp baking soda
1 tsp nutmeg
1 tsp cinnamon
Chopped walnuts, optional
Mix all of the ingredients together. Spoon the batter into greased mini muffin tins. Sprinkle chopped walnuts on the top of each muffin if desired. Bake them at 325 degrees for 15-20 minutes, or until the top springs back to the touch and a toothpick comes out clean. If you make regular-sized muffins, they will need to bake longer. (Loaf pans will bake for about 1 hour and 10 minutes.)
Let the muffins cool for 5-10 minutes in the pan. Then gently run a table knife around the edges and remove them from the pans. Let them cool completely on a wire rack.
1 package cream cheese
1/2 cup butter, softened
2 tsp vanilla
4 cups powdered sugar
Mix the ingredients to form a creamy frosting.
Once the muffins have cooled, slice them in half and spread cream cheese frosting in the center. Refrigerate any leftovers.
From: Itsy Bitsy Foodie (her recipe and her pictures) Please go and check her out! She is GREAT!